I have been involved with Gold Dust magazine almost since its founding by Omma Velada in 2004, mainly as Prose Editor and cover designer, also writing a number of reviews and features, interviewing authors and others for the magazine, and judging competitions.
Over the period of its existence the readership of Gold Dust has grown from a few tens to more than 3,000, most of them taking advantage of the free downloads, but it is also available in two different printed formats from Lulu.com. More than 200 people submit poems and stories for each of the two yearly editions, of which about 5% make it into print. The magazine has its Home Page where you can sign up to the mailing list and keep upto date with all the Gold Dust news. We also have our own Sales Page on Lulu.com where you can dowenload current as well as back issues free or buy printed copies in two different formats.
Gold Dust runs a lot of free competitions and also many live events in London, such as parties, readings and book launches. We usually include live music and open mic sessions in our London events, and you can see video clips of what we get up to on our Gold Dust YouTube Channel
In addition to the magazine we have published two anthologies, one a 'best of' collection of short stories, Solid Gold, which I edited, the other a 'best of' poetry collection, Liquid Gold, edited by Claire Tyne. Both of these sold very well and are still available to buy from Lulu.com.
As time goes by Gold Dust magazine just goes from strength to strength!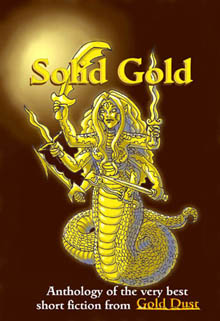 Solid Gold – anthology of the very best short stories from Gold Dust
Click on the cover image to buy.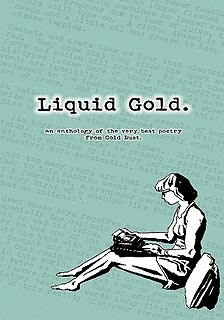 Liquid Gold – anthology of the very best poetry from Gold Dust Click on the cover image to buy.