The UKAway writers' events

The annual UKAway writers' holiday is primarily a chance to write, without hassle or interference, within an understanding and supportive peer group of fellow writers who are willing to offer feedback and encouragement as required. There is plenty of evening discussion, and a fun side too – sightseeing, walking, cycling, swimming or whatever people want to do, either alone or in groups. It's essentially a one-week residential writers' group where you have time to do more than scratch the surface of the project you're working on. At the end we normally produce a chapbook, both in a printed format and as a free download. This year's UKAway is planned for August 14th -20th 2010 at the cottage next door to The Ceridwen Centre. The price for the week will vary depending on how many attend but will not exceed £245 and may drop below £200 if we get the full quota of eight participants (evening meals extra). There are no rules and no pressure to conform or take part in seminars or do anything you don't want to do. Each person can participate in group activities as much or as little as they like. It's our own time, and it's up to us to decide how to spend it. Typically we will relax and write during the daytime and meet for an evening meal, which can, if people wish, be followed by a reading and discussion session to knock into shape whatever it is we are working on, and get the advice and support of our peers. It isn't a writing course, there are no gurus and no leaders.
"...the value of the week cannot be overstated. It is inspirational, a lot of writing is done, friendships made, new experiences found and the experience remains memorable for ever. The Northern Cyprus UKAway last year made a huge impact on me far in excess of the expense"

Geoff Nelder, science fiction writer and Escape Velocity magazine editor.
Visit the forum thread at UKAuthors.com for more information about this year's UKAway, and have your say in the planning.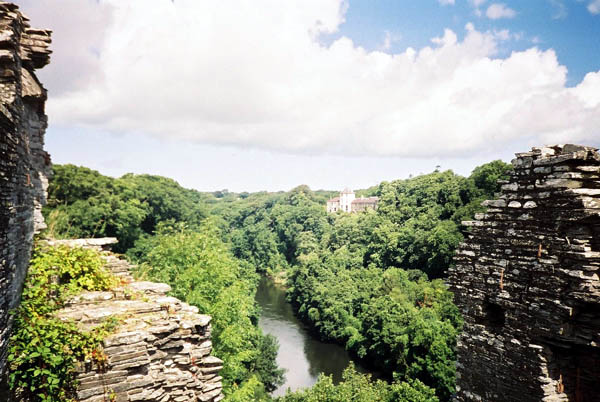 River Teifi
Things to do locally

There is a mountain bike hire and guiding business owned by Simone Mansell Broome's son Matt, a qualified outdoor activities instructor, run from the farm where we will be staying. Simone says that if anyone is interested in an activity it can be arranged, provided of course we give enough notice and he's not booked up.

On Monday 16th we have agreed to attend a meeting of a local writers' group, The Teifi Scribblers, and give a workshop on the short story (my responsibility) and a poetry workshop (responsibility as yet unassigned) to which other friends of Ceridwen Centre will be invited. It should be enjoyable and we get a free lunch!

If we get fed up with hanging around the Centre there is also the nearby River Teifi, mountain and forest walks in superb South Wales scenery, and no doubt a great deal more that we will discover when we get there.


How do I sign up?

In the first instance please e-mail David Gardiner and we'll take it from there.
SEE YOU IN WALES!