Naturally most people want to write or paint or whatever they have come to do, but there are lots of local beauty spots to visit and villages to explore and distractions of all kinds for those who want them. Sue has an extensive collection of taped films to watch in the evenings, if that is what people want to do, and an equally vast collection of music CDs. The evening activities during my visit included visits to pubs where there was traditional music and dancing (one of our group, Vanessa, even going up to the mike and singing a song, brave soul), film-viewing, and, more significantly, sessions where we sat around and read and discussed one another's work. I think we related very well as a group, but that is something you probably couldn't guarantee would happen every time. The ethos of the retreat is fairly strongly American and there are genuine cultural differences that British visitors might need to be aware of: a timid, retiring Hugh Grant type Brit might find it hard to get a word in when a group of enthusiastic Americans are in full flow. One thing I would recommend any potential visitor to check out is exactly who else is going to be there at the same time. If you were, say, the only poet in a group of non-fiction writers you could feel a bit left out. Sue of course tries to organize it so that such things don't happen.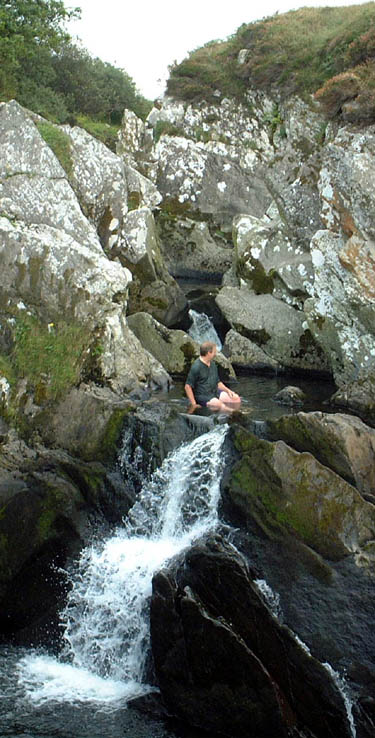 Taken just after the mermaid Joe was talking to disappeared.
The swimming hole or "cascade" a bit up river from the house became a big feature of our daily programme. I managed to persuade just about everybody to have a dip there sooner or later, even though it was mid September and the water was a bit chilly. It was a great way to relax after the day's writing and work up an appetite for the evening meal.
Patrick probably got more out of these visits than anybody else, his hearty cries of "I'm alive!" being clearly audible in the next parish.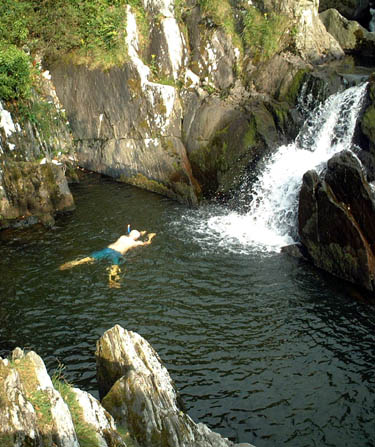 Me, on shark patrol.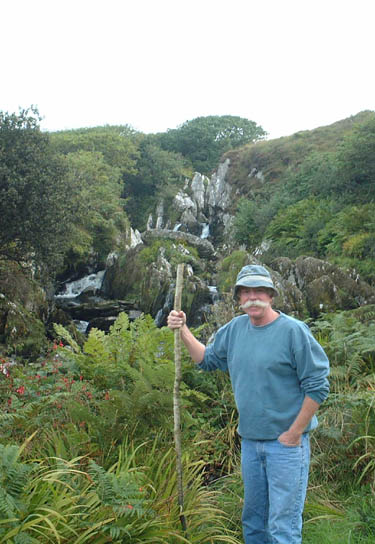 Above is my good friend Patrick, apparently returning from an expedition into darkest Beara, carrying the traditional shellaleigh with which to fend off the local forest-dwelling ogres and Celtic vampires.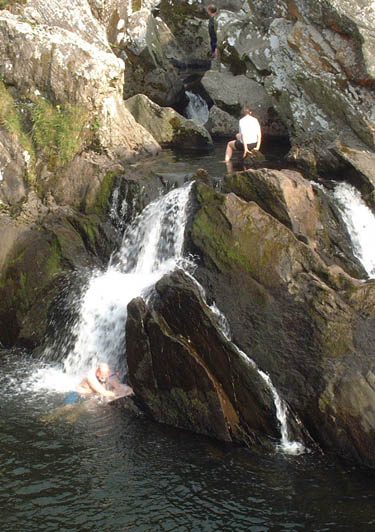 The area is frequented by a rare and endangered species of freshwater mermaid. In this picture your hero valiantly battles the elements to reach one in the upper pool and claim his pot of gold before she returns to Tir na n-Og and becomes invisible once again.