Back to First Page
Costa Rican Holiday
February 2003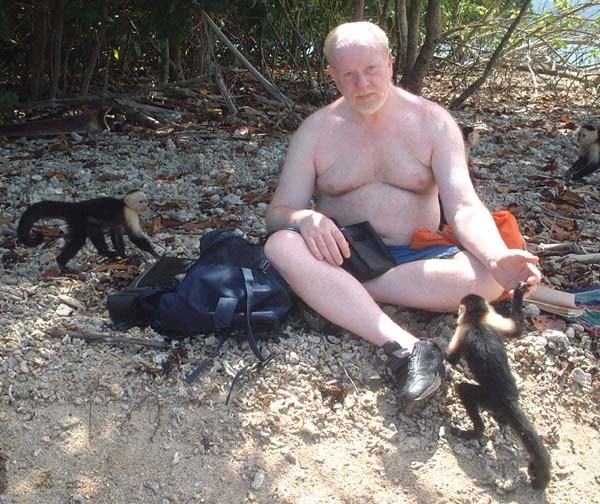 Back from my Costa Rica trip now, settling down to my mundane and pedestrian life in North London once again. Said I would write something about it so here goes.
Basically, the trip was a great success. It's a country that has always fascinated me because it has disbanded its army and allocated that section of its budget to education and public health. The only country on earth to have done that, I believe. As an old armchair anarchist and communal living enthusiast with an unquenchable interest in alternative social structures and ways of life I wanted to have a look at it and see if it was really as successful as the tourist publicity suggested. And yes, I have to admit, it's a great social model. A society where the gap between the "top" and the "bottom" is quite narrow, where social services are good and people take a pride in their country and seem to be very much at ease with themselves. There is very little outward sign of stress or aggression, people are friendly and relaxed and even the San Jose city traffic moves at a sober pace and shows consideration for pedestrians.
This essential absence of alienation is a wonderful thing which I have seen also in rural Thai society, and it makes you realize how much ground we have to make up socially in cold, aggressive northern Europe.
The raven-haired and doe-eyed women, whose features are a combination of Spanish and Caribbean influences and who seem to retain their figures and their looks well into middle age are another factor that feeds the belief you are walking in an earthly paradise. Little wonder that so many Americans and Europeans have chosen it as a retirtement destination: Jean and I are strongly tempted to join them.
While Bush and Blair were carefully planning the imminent extermination of a few hundred thousand innocent people living in the Middle East we were strolling through the National Parks of a country which has done more than almost anywhere else to preserve its vast tropical rainforests and the creatures that inhabit them. The people we encountered seemed oddly uninterested in the techniques of bringing death and destruction to their fellow creatures; obviously they were primitive and uneducated. We saw almost every exotic animal in the field guide at one time or another: on land, four kinds of monkeys, some of which crawled over us in an attempt to steal our pack-lunches, large crocodiles, caimans, lizards, iguanas, tarantulas, warrior ants, snakes, amphibians, coatis (raccoon-like creatures), porcupines, squirrels, deer, armadillos, agutis (large tailless rodents), sloths (two types) and insects as big as my hand; in the sea, turtles, innumerable fish species, sting rays and manta rays; and in the air bats, butterflys and dazzling-coloured birds of all kinds. We didn't encounter any jaguars or pumas but considering that we were only there for three and a half weeks we didn't do badly. All the animals have become fairly accustomed to human visitors and it's possible to get very close to most things without their running, swimming or flying away. This is a country where University departments devote big resources to keeping the wildlife happy and healthy and where the average person in the street will be able to explain to you the difference between a white-faced capuchin and a howler monkey and recommend the best places and times of day to see either. There is a reverence for the wildlife here that I have certainly never come across anywhere else. I saw traffic stopping to allow a colony of tiny squirrel monkeys to cross the road and I asked someone if they ever got run over. He said "You would be better to shoot the President than run over one of those. You might be given leniency if it was just the President." A sentiment which I think illustrates a commendable sense of priorities.
We stayed in a series of cheap back-packers' hostels and hotels which are very plentiful and all of which were okay. We ate in local restaurants and never had a bad meal, they ranged from okay to excellent. Joint best meals were: a) a paella at about £7.00 each including drinks, which was superb and which we came back for again the following night, and b) snapper fish cooked in coco-nut milk which cost about £5 each all-inclusive, at a very remote spot called Cahuita, basically a turtle research station.
The ONLY disappointment for me was my first two dives, from a place called Playa del Hormosa on the Pacific coast, which had rotten visibility due to an influx of krill, the micro-sized crustaceans that whales eat. Further down the Pacific coast at a place called Montezuma the visibility was good (although not the best I've seen) and we were able to get up close to a few sting rays, a large moray eel, a manta ray and a turtle, as well as lots of pretty tropical fish. I've got a few fairly good underwater pictures but the visibility problem does show a bit.
Speaking of cameras my faithful Fuji digital gave up the ghost in the middle of the rainforest area near Tortuguero and is going to cost over £100 to fix. I won't see the digital pictures until I get it back. Because of that I had to use the Sea-and-Sea underwater camera for the above-water shots also, but it's given a pretty good account of itself. It's basically an autofocus 35mm camera with a housing to resist water pressure to 50 metres. A bit bulky for ordinary tourist shots above water!
Speaking of Tortuguero, when we came back to our hotel after a pleasant day on a beach that they call Playa Negra there we were told with pride that there was a twelve foot crocodile living on that beach for the past few years and asked if we'd seen it. Sadly (or luckily) we hadn't, although there's a pretty good likelihood that it had seen us. In general the crocs seem to leave the tourists alone in Costa Rica, sign of a well-mannered croc I always think.
The only problems we had in CR was with the Spanish language, because outside of the cities and tourist centres there isn't all that much English spoken, and the mosquitoes which just love Jean but seem indifferent to my clearly inferior-tasting Celtic blood. On the language issue, Jean had travelled in South America for a few months when she was younger and found that a lot of her Spanish came back, and even I managed to learn a word or two before the holiday was over. We also carried an excellent Spanish/English dictionary.
Not a lot more to say about CR, except that we are looking into their immigration requirements as we both think that there might be much worse places to end ones days, possibly including Walthamstow.
Lots more pictures, right this way: -

TO READ OR SIGN THE GUEST BOOK JUST CLICK ON THE
OPEN BOOK ICON BELOW!