Back to First Page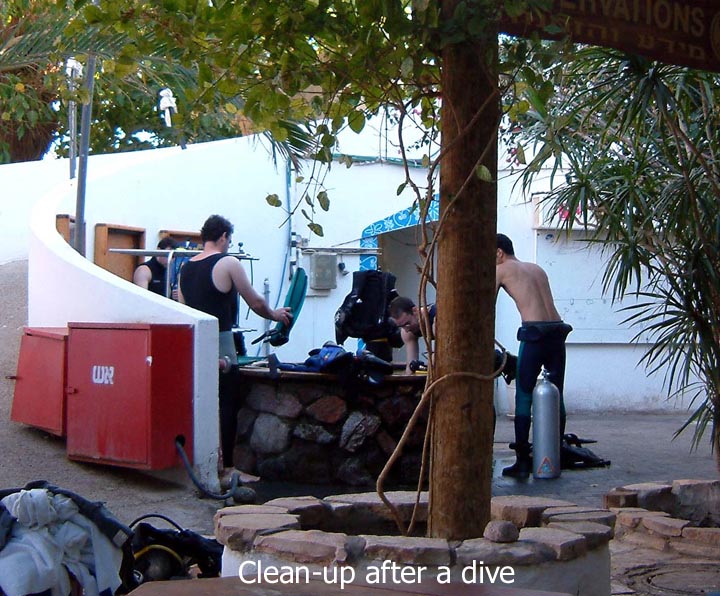 Diving holiday in Eilat continues: The underwater scene

Despite (or because of) the very low numbers visiting the Eilat dive centres in recent years, the coral is mostly in very good condition and colourful fish are plentiful. There is a lot of competition for what few tourists and off-duty flight-crew etc. are around which has pushed prices down. The only dive centre still open on the Royal Beach, Deep Divers Resort, was offering guided dives for 100 shekels (about £16) inclusive of equipment hire and a full tank. Their safety standards were high and they were very pleasant and friendly, but most of the time I was the only diver in the group! Luckily they do a good custom in specialised technical diving training, which keeps them going. They can arrange all kinds of packages of boat and shore diving as well as basic and advanced PADI courses. I would have no hesitation in recommending them, so long as you don't get lonely too easily.
Most people seem to go to the three dive centres operating around the Underwater Observatory and University Beach area. These are a little more expensive (about 140 shekels for a guided dive) but at least you aren't on your own and there is a bit of social life centred around the restauraunts and bars. One was called the "50 bar" which is a joke divers will appreciate.
I met some of the El Al off duty pilots and air crew here and had some interesting chats about the aviation game and air security for a threatened society like Israel. They seemed a reassuringly sensible group, and just as keen to remain alive as I am myself. I also had a few dives with a young American couple who were over with their small baby to attend a family wedding. Unfortunately the woman didn't feel able to leave the baby long enough to have a dive herself (I did offer to babysit). It was a pleasant atmosphere and everyone was very friendly as underwater enthusiasts usually are.
The most spectacular things we saw were a couple of large rays, a few stonefish, a medium-size moray eel and a few Napoleon fish, groupers and John Dorys as well as some very large parrot fish and puffers. Mostly it was very colourful coral and lots of small colourful fish. We saw a lot of lion fish and some very large shoals of those lemon coloured things (lemon snappers? Big-eye snappers?), and large pipefish. Also lots of my particular favourite the pennant fish. One octopus, but a big one. As usual, we heard that a green turtle had been seen the week before, but had attracted so much diver attention that it had headed down the coast towards the Egyptian Sinai. Just another instance of Eilat failing to attract visitors. All-in-all, a very nice holiday in a good dive location but the Galapogos Islands have spoiled me for underwater life. I was very pleased with my low air consumption this time - well, it was about average, which for me is good. I was never the first one in my group to hit 50 bar. It goes to show how much fitness i built up in that one week in Morocco before I came out.
I will save the Dolphin Reef operation for a separate page. The next one, in fact.
PHOTO-COLLAGE OF UNDERWATER EILAT
Click on the small images to see full-size version.
Use the back button on your browser to return to this page.