Back to First Page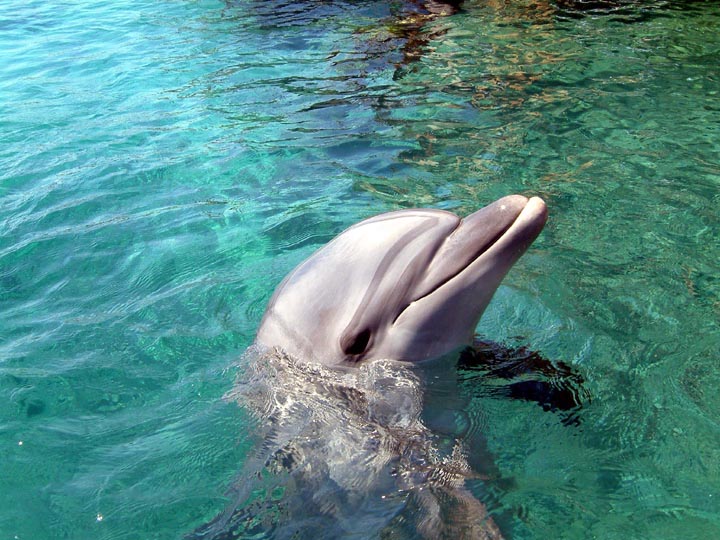 Diving holiday in Eilat continues: The Dolphin Reef operation

Swimming and diving with dolphins has always been on offer in Eilat at a private beach operation called "Dolphin Reef". On previous holidays I had not gone there, firstly because it seemed (and is) very expensive, and secondly because sessions had to be booked-up and paid for well in advance. This time I decided to "take the plunge" (literally) and booked-up two sessions, one of diving and one of snorkelling, before leaving London. Had I known how few tourists were around I wouldn't have bothered, and might not have gone ahead with either activity when I found out what the sessions really amounted to.
On arriving I showed my Internet booking receipt and was allowed in without paying the 40 or 50 shekels admission normally charged. After strolling down a leafy path I came to a fair-sized complex of snack-bars, restaurants and souvenir shops, as well as a sort of wooden observation stadium reminiscent of dolphin "shows" at places like the Brighton Dolphinarium, and a dive centre. Everything was visually very neat and well maintained. Also very commercial and reminiscent of a theme park.
Maybe I shouldn't have been surprised by this, because it is a completely commercial, privately-owned attraction, but the Internet publicity I had read had put considerable emphasis on the notion that these were wild dolphins, free to come and go at will, and that you could touch them or play with them if the dolphins were willing. It sounded very "ecological" and gave the impression that the dolphins were there because they wanted to be and everyone was having a very good time. The commercial aspect, I thought, was just to cover costs and maybe contribute to ecological concerns.
That is not a true picture of the Dolphin Reef attraction. The first thing I noticed was a large fence of plastic shark-nets securely fixed to posts in the sea-bed and penning-in the dolphins. They were being fed when I arrived, with dead fish, the same as happens in zoos or so-called "dolphinariums" world-wide. However hard I tried I could not perceive these creatures as "wild dolphins". They seemed happy enough, but then dolphins always do.
Prior to my first session, which was the dive, we had a rather impersonal briefing which consisted mainly of a list of things that we weren't allowed to do. We must stay with the guide at all times, we must not touch the dolphins, we must not take flash photographs, we must remain as a tight group and so on. The guide would interact with the dolphins if they wanted him to, we would not, under any circumstances.
There may have been a point to some of these rules, but questioning returned very vague answers, and my most important question, why the dolphins were fenced-in, was evaded rather than answered. I asked several different members of staff and got several different answers. Either the dolphins had attacked someone and hence the public had to be protected, or divers had upset the dolphins so they needed protection from the public, or newly-born dolphins had wandered off and got lost before the nets went up, depending on who you asked. My suspicion, obviously, was that allowing the dolphins their freedom did not serve the commercial interests of Dolphin Reef's owners. Maybe the dolphins were more tolerant of human contact before they had been, effectively, imprisoned. Perhaps their behaviour had become less predictable under confinement. I can't prove any of this, it's just conjecture. But by NOT explaining themselves thoroughly to their visitors it's the kind of conjecture that the Dolphin Reef proprietors invite.
The actual "swimming with dolphins" experience was very tame due to the restrictions. Since I had pre-paid I did both the dive and the guided snorkelling on two different days. Both activities were very similar. We were guided around the pen in a tight little group with the dolphins swimming by us every now and again, quite fast and seldom closer than ten or fifteen feet. Once or twice in each session a dolphin approached the guide and allowed its nose or its back to be stroked. We were not allowed to get too close while this happened. And that, in a nutshell, was that. I felt that I had paid a lot of money (diving and snorkelling sessions both cost about 250 shekels) for very little. My advice, if you go to the Dolphin Reef, is just to pay the admission fee and watch the dolphins being fed from the floating pontoon. You can walk out on the pontoon and in fact you'll get closer to them there than you will ever be allowed to in the water.
PHOTO-COLLAGE OF EILAT'S DOLPHIN REEF
Click on the small images to see full-size version.
Use the back button on your browser to return to this page.