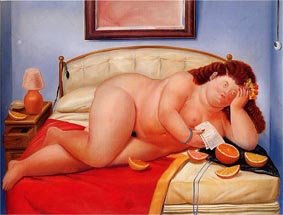 'The Letter' by Fernando Botero



Full-figured Woman,29

By David Gardiner

This story may be reproduced in whole or in part for any non-commercial purpose provided that authorship is acknowledged and credited.
The copyright remains the property of the author





Dear full-figured woman, 29,

I too like sports. I used to play in the Sunday League, and was a keen member of the Neasden Swimming Club, but these days I have to make do with a weekly visit to the gym. Like you I enjoy foreign travel. I have been to Torremilenos and Ibitha. I admire and respect your taste in books, although I'm not much of a reader myself. I grab the free paper on the tube and read it on the way to work, and that's about it. I mean, with so much news and so many films on Freeview I'm surprised anybody buys newspapers or books any more.

I work for Southern Roll which is a firm of merchant bankers (that's not rhyming slang by the way). I'm one of the IT support team. That means I try to fix any problems that come up with the computers and and get the system working again. As you can imagine, I'm a very busy man.

I'm surprised you don't use the Internet to meet people. I use it a lot. Although maybe it's not a great place to find a deep meaningful relationship, but there are DMR websites. You can put up a photograph, which always grabs people's attention. You should put a picture in your Metro advert.

I'm a slim 39-year-old, 5 foot 11 inches, slightly receding hair, great teeth. I dress smart casual and I drive a BMW Z4 SE. You're probably wondering why a young sporty guy like me is still on the market. Well, it isn't that I can't get a girl, it's that I can't get THE RIGHT girl. I'm ready to settle down now. I'm looking for a fit chick who's on the same spiritual wavelength as me like you say in your ad, but also a good cook and house-proud and looks a little bit like Pamela Anderson. I mean, I've got a lot to offer so I have a right to expect the best. As for children I wouldn't mind a couple some time but not too soon and not too many. I don't think I'm quite ready to be a father yet, maybe in a few years time.

Please send me a recent photograph and your mobile number and we can meet up some weekend. I like night spots like the Koko and the Cargo. Or if you want to talk we could eat somewhere. I hope you aren't a veggie 'cause I like my steaks!

Catch you later,

Nigel Tuber.

---
Dear Nigel,

I relate SO MUCH to everything in your letter. I played netball when I was at school and although I never learned to swim properly I've always been able to float on my back, and can nearly go to sleep like that in warm water. I have been to Malaga and Lanzarote and quite a few other places, but not recently.

Books aren't all that important to me, and when you have a busy life the free papers like the Metro are a great way to keep up with London news. I watch the news on TV too and I love films. Titanic and Four Weddings and a Funeral are two of my favourites.

You must be very clever to fix computers. We have one at work and it goes wrong just about every time I touch it. We could use your help!

My job is mostly answering the phone. I used to be on the front desk but they have a different receptionist there now and I work on the sixth floor in one of the deputy director's offices. It's just me and him. That's one reason I find it harder to meet people now. My boss Mr Sweeny is a card-carrying clinical depressive. He often just stands at the window and stares down at the traffic. I think it's a good thing that the window doesn't open because he would probably jump out. It isn't such a fun place to work really.

I can't use the Internet because I haven't got a computer at home, and I could hardly visit personal sites like that at work! If I had a boyfriend to help me I could get a computer I suppose. I think a laptop would be best because there isn't much room here.

I don't think I look very like Pamela Anderson, but my bust size is probably even bigger than hers.

I know what you mean about finding the right person. It's very hard, isn't it? People can be so shallow and only interested in what you look like. It's a person's character and personality that matters, isn't it? I think I have a really great personality.

I don't have any recent photographs but I could get one out of the machine at the Underground station. You look great in yours. It's hard to believe that you're 39, you only look about 29! Anyway, if we meet up you won't need a photograph of me, will you? I would like to meet you face to face to see what the chemistry is like, if it's all right with you. My mobile number is below my signature, and I'm free this weekend, either Friday, Saturday or Sunday. If we met on Friday night and got on we could make a whole weekend of it, couldn't we? I don't mean that in a sexual way of course.

I don't really want children yet either. I think it's very mature not to rush into that kind of thing but to do it when you're absolutely sure that it's right for both of you. And I think you're quite right to expect a high standard in your life partner. I do as well and I have been waiting a long time for the right man. After all, we're both still young, aren't we?

I can get to the West End by about 6.30 if you would like to meet after work on Friday. I'm not a veggie, in fact I can't think of anything that I don't eat. I keep my fridge well stocked because I often get hungry at odd times, or have a craving for something really strange like lemon meringue pie or Chinese spare ribs.

I can tell that we have a lot in common and I know we are going to get on really well. If you want to meet me after work my nearest tube station is Chancery Lane on the Central Line. Then we would have the whole evening together. I'll fit in with whatever is convenient for you.

See you soon!

Lots of kisses,

Muriel.

---
Dear Nigel,

I completely understand your reaching the conclusion that we are not spiritually on the same wavelength. Almost as soon as you looked at me I could tell that I wasn't right for you. Women can sense these things. Our auras simply didn't harmonise, did they?

Nevertheless I like to look on the bright side. We had a pleasant chat at Starbucks and the cappuccino was lovely. I enjoyed hearing all about you. We didn't quite get to me, but as you clearly guessed my life hasn't been all that interesting.

I hope you find your Pamela Anderson look-alike domestic slave nymphomaniac (that's a big word but you can Google it). What I'm looking for is perhaps a little more subtle: a man with enough sensitivity to see beneath outward appearances and value a person for her personality and her soul. I'm not sure which of us has the better chance of success.

Thank you for a very memorable fifty minutes and I hope your life goes well. A word of caring advice: I think you are unwise to lie about your height when answering advertisements. Also it really is time you got a new photograph, and you should perhaps consider the regular use of a mouthwash.

With all good wishes,

Muriel.




SEND ME AN EMAIL