Back to First Page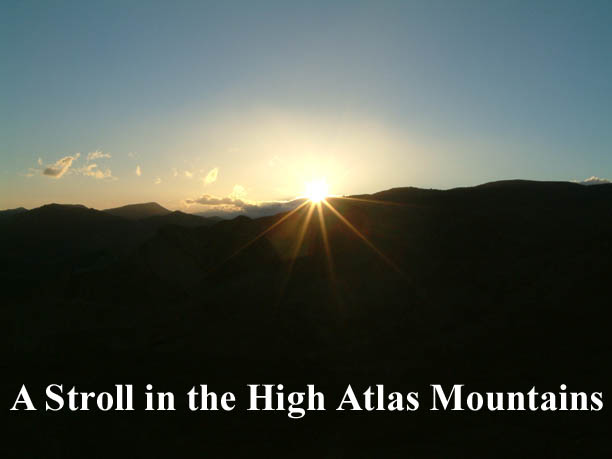 Account of a week's walking holiday in the Atlas Mountains of Morocco

By David Gardiner
This article and the pictures that accompany it may be
reproduced in whole or in part for any non-commercial purpose
provided that authorship is acknowledged and credited.
The copyright remains the property of the author



This is a pictorial account of a week spent walking in the High Atlas Mountains of Morocco with a group tour organised by the tour company Exodus. The tour is called The Atlas Panorama and has been running for many years. It tests to the ultimate the human capacity to live for a week without Internet access. To be honest, as walking tours go, it's considered pretty tame, which explains in part how I was able to survive the week with nothing worse to show than a nasty head-cold and a couple of aching calf muscles.
Our group consisted of twelve people (including Jean and myself) and our Berber guide Hassan. Because it was half-term in the UK there was a strong preponderance of teachers of various kinds in our group. Here we are at breakfast in the gîte (mountain hut).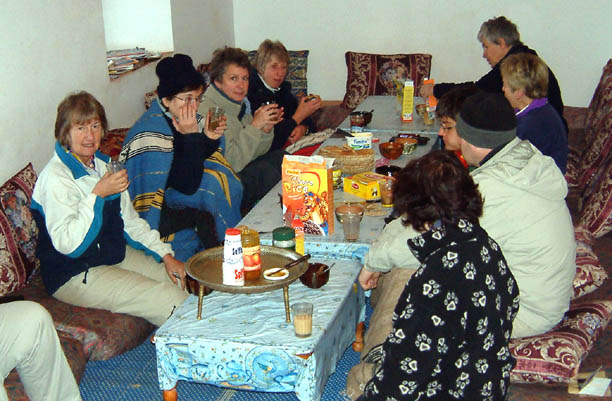 Facing camera, left to right: Jean, Siobhan, Mandy, Julia
Back to camera: Jane (furthest away), Chris, Paula, Mike, Miriam (nearest camera)
Here are a few more of us. It's the same morning but Jean has taken control of the camera and I am sitting down again. This time Jim and Morag are in the foreground with me grinning innanely behind them (third one in).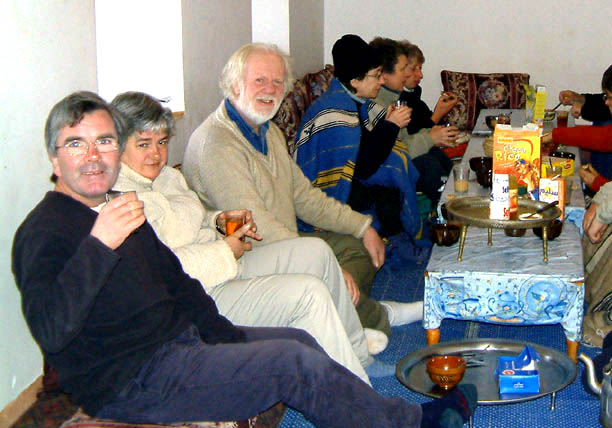 Our holiday started (and ended) with some time in Marrakesch, which is a hot, dry, crowded and somewhat frightening North African capital full of street traders and stall-holders and showmen who's main aim in life is to separate you from your money with the greatest possible speed and efficiency. Perhaps the least said about that the better, although Jean was able to take the opportunity to purchase ten belly-dancing skirt-belt-thingys for enterprises that she is planning in the belly-dancing field (a woman of hidden depths is Jean).
Returning to the mountains, we were conveyed by heavily-laden minibus to the Berber village of Tighza at 2,400 M above sea level which was to be the base for our mountain walks. This is one of the highest of the Berber villages, because there is of course an altitude limit above which the land will not support agriculture or offer enough subsistence for livestock. The growing season at this altitude is short because the rivers only flow when there is melt-water from higher up (some streams flow for as little as three days per year) and by the time the temperature is rising above winter levels there is very little water available for irrigation. The day/night temperature swing at the time of our visit was between about +10 and -10 C, which was quite pleasant for walking, especially in the bright sunshine. Despite the harsh conditions the Berbers have terraced the land in the valleys and are successfully growing varieties of wheat, barley, potatoes, carrots, onions and turnips as well as figs, almonds and coarser grasses for animal feed. They build from stone, using the local clay mixed with water as a mortar, and due to the general dryness these houses can last for two to three centuries.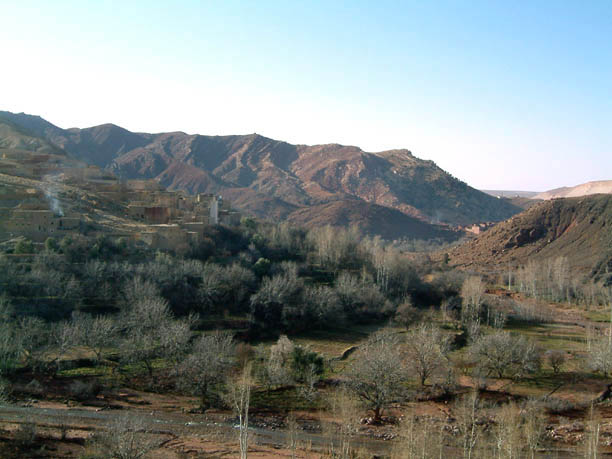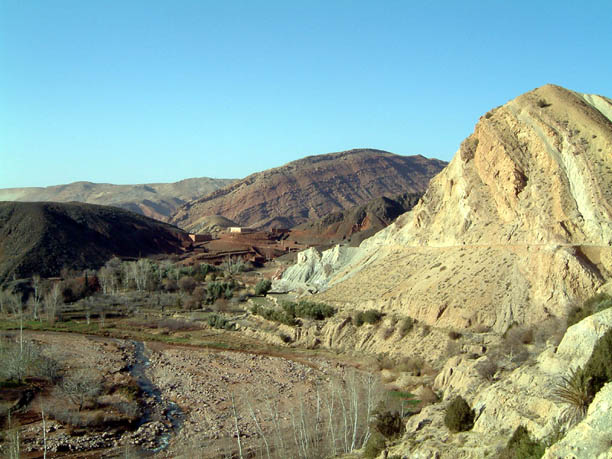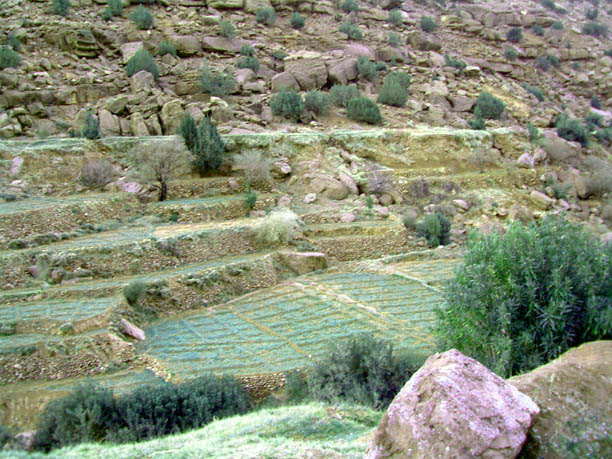 Terracing the valley to make agricultural land