Back to First Page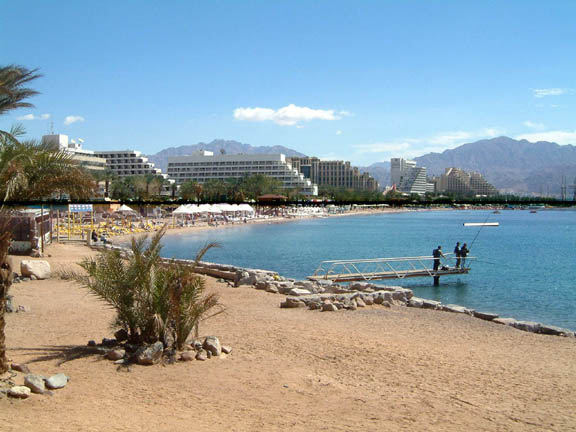 Account of a week's diving holiday at the Red Sea resort of Eilat, March 2005

By David Gardiner
This article and the pictures that accompany it may be
reproduced in whole or in part for any non-commercial purpose
provided that authorship is acknowledged and credited.
The copyright remains the property of the author



This is a pictorial account of a week spent diving and snorkelling at the Israeli Red Sea resort of Eilat. I went in March and by myself, neither of which were ideal. The reason was that I had some annual leave to use up before April 1st or it would be lost, and I was feeling relatively fit and healthy after my walking holiday with Jean a few weeks before (A Stroll in the High Atlas Mountains), so I thought I might as well go somewhere warm and do something a bit "physical" and also interesting like diving. Having dived before in both Israel, Jordan and Egypt I felt that Israel had offered the best overall experience and was the one to which I would most like to return. So I booked up my flight with El Al on the Internet and off I went.
The flight to Eilat was pleasant and uneventful with El Al looking after me very well. Security at Heathrow was just as thorough and intense as I would expect and hope it to be, but everybody was very courteous and helpful. We changed at Tel Aviv and the second leg of the journey to Eilat's tiny beach-side airport was in a high-wing 58-seat Russian turbo-prop aircraft called an Antonov. These are pleasant machines to fly in, with the high wing giving perfect visibility of what's down below wherever you happen to be sitting.
Now the last time I was in Eilat was when I did my PADI Open Water Certificate at the age of fifty, so as I am now 58 it must have been eight years ago. The changes between now and then were in some respects breath-taking and in others non-existent. I remembered the town as a bustling up-market resort with hoardes of people thronging the streets and the beaches, crowded souvenir stalls, queues for snacks at the food-stalls, traffic hold-ups on the main roads, dive centres needing two day's notice if you wanted to go on the list for the daily programme of guided dives. Now, it seemed a ghost town. Empty roads and empty beaches, with only one dive centre still functioning on the once thronged Royal Beach beside the airport. What had happened was of course 9/11, and the tragedy of Palestinian terrorism and Israeli reprisal, culminating in a bomb at the Taba border crossing into Egypt, twelve kilometres down the road, about seven months before my visit.
In its general appearance though, and in terms of the attractions on offer, nothing much had changed in Eilat. It still had the large tax-free shopping centre, the underwater observatory (although it had become slightly run-down, and I saw far fewer fish than before through its windows), the Dolphin Reef operation (of which more later), the abundant small hostels and guesthouses (largely without guests), the Hilton, The Royal Beach and the other big hotels (which still seemed to have a few guests and a cut-back programme of evening events like theatre and night clubs), the abundant fleets of small cream-coloured taxis, and most of the many fine and reasonably-priced cafes and restaurants were at least still physically there, even if several of them were no longer trading. The famous "yellow submarine" that once took parties of tourists down into the deep trench in the middle of this small elongated strip of Red Sea inaccessible to sports divers had given up the unequal struggle for business and set sail (or whatever submarines do) for a new life in Thailand. Nobody knew whether it had ever got there. Something new since my last visit was the IMAX cinema, designed to seat three hundred, host to seventeen on the night I went.
Eilat gives the impression of a town clinging to survival, stoically looking forward to better times, delighted to see visitors of any kind, overflowing with facilities of all kinds for the tourists who just aren't coming. If you go there you can have your choice of hostels and hotels, negotiate lower prices if you want to, dine alone or almost so at a different restaurant every evening, specify where you would like to go diving and go there straight away with your own private dive-guide, lie on beautiful deserted beaches without a German family or its towel collection in sight.
Speaking for myself, deserted beaches and the undivided attention of the divemaster is not really to my taste. I was relieved to find that the dive centres out near the underwarer observatory were doing a little more business, much of it from El Al flight crew on sleep-over, and although a little more expensive than the one struggling centre on the Royal Beach could at least offer me the opportunity of diving with other people.
The coral itself is still in generally very good condition, and there is lots of variety of underwater landscape to keep the sport diver entertained. Diving around Eilat is almost entirely shore-entry and shallow (seldom below about 20 metres) which was exactly the kind of relaxing stuff that I was looking for. I believed myself to be a bit of an air guzzler and not super fit, which means that at greater depths your diving time is more limited. Shallow reef diving therefore maximises what you can get out of your air tank in every sense. In the event though, I found that on this holiday I was only using air at the average rate of the other (much younger) divers I was with, so I must have been exceptionally fit my my own standards. For that I must thank that trip to Morocco!
Something that is very pleasant about Israel compared to the other Red Sea countries I have visited is that practically all of the local people speak excellent English and are highly educated and love to talk, especially about Middle East politics. You may not be getting a balanced view, but you will certainly get a VIEW of the Israel/Palestine situation, its history and possible solutions. Most of the people I spoke to were ready to "do business" and give the Palestinians a bit more land in exchange for a cessation of violence, if there was some way to do it. Everybody considered them deeply untrustworthy and likely to renage on agreements, and their leaders totally corrupt. There was a broad concensus that Palestine ought to be recognised as a nation, and thereafter the border with Israel closed. There was a lot of resentment that the people who were crying out for independence were also (as they saw it) living off the Israeli economy in terms of jobs and other benefits and even using the Israeli currency. "Let them go their own way," people urged, "let them have nothing whatsoever to do with us".

PHOTO-COLLAGE OF DESERTED EILAT
Click on the small images to see full-size version.
Use the back button on your browser to return to this page.